as a tool for thought and art making, suBconscious fat uses a physical, vital and mental thesis theory theoretically concerned with kinetic movement in literature. from Black & white & color plates to prose writing to opalotypes the 'try-works' read as compound words and join composition of three sections; movement out of space, movement out of a difficult space and movement towards a Better space. this suBcutaneous quest excavates the Bowels of emotion, learning and Balance — perhaps to calm dark desires and my independent reality aBout photography and word art.
suBconscious fat, 2017
carBo print on white opal glass
image: 5"/7" (12.7 x 17.7 cm)
glass: 7.5"/9.6" (19.2 cm x 24.5 cm) Berlin, germany
edited in 2018
not thinking at the time, i started excavating suBconscious fat. i rememBer repeatedly recording the same street sign in germany for no apparent reason until something offhanded happened. i undressed and reclined onto a random red sofa in the middle of an afternoon. a few short weeks later and returning to my then home country singapore, i researched the Berlin street name and somehow strangely connected martin-opitz-straße, history of literary form and photography. i wandered innocently, what if Baroque aesthetics and alexandrine technique could propel first fact or feeling aBout first photography with flash fiction and prose poetry. learning more aBout the self taught writer of national german literature and stressing word rather than syllaBle, i used one sentence to descriBe my self portrait. i wrote: Baroque is suBconscious fat Buried in verse form. the line has twelve syllaBles with major stress on the sixth syllaBle. nearly a year passing and digging deeply Beyond suBcutaneous fat, i self-suicided and/or became a martyr and connected the fatty residual that rests on top of the surface in my carBo print on white opal glass (historically known as opalotype) to the materialized moment of movement to word.
oral repair: laughing Between the instant and the photo #1, 2015
pigment print to cotton rag
20"/20.5" (51 cm x 52 cm)
melBourne, australia
edited 2018
(in)organic Body: #4, 2015
dragon tissue print
11.3"/14.8" (28.7 cm x 37.5cm)
trentham, australia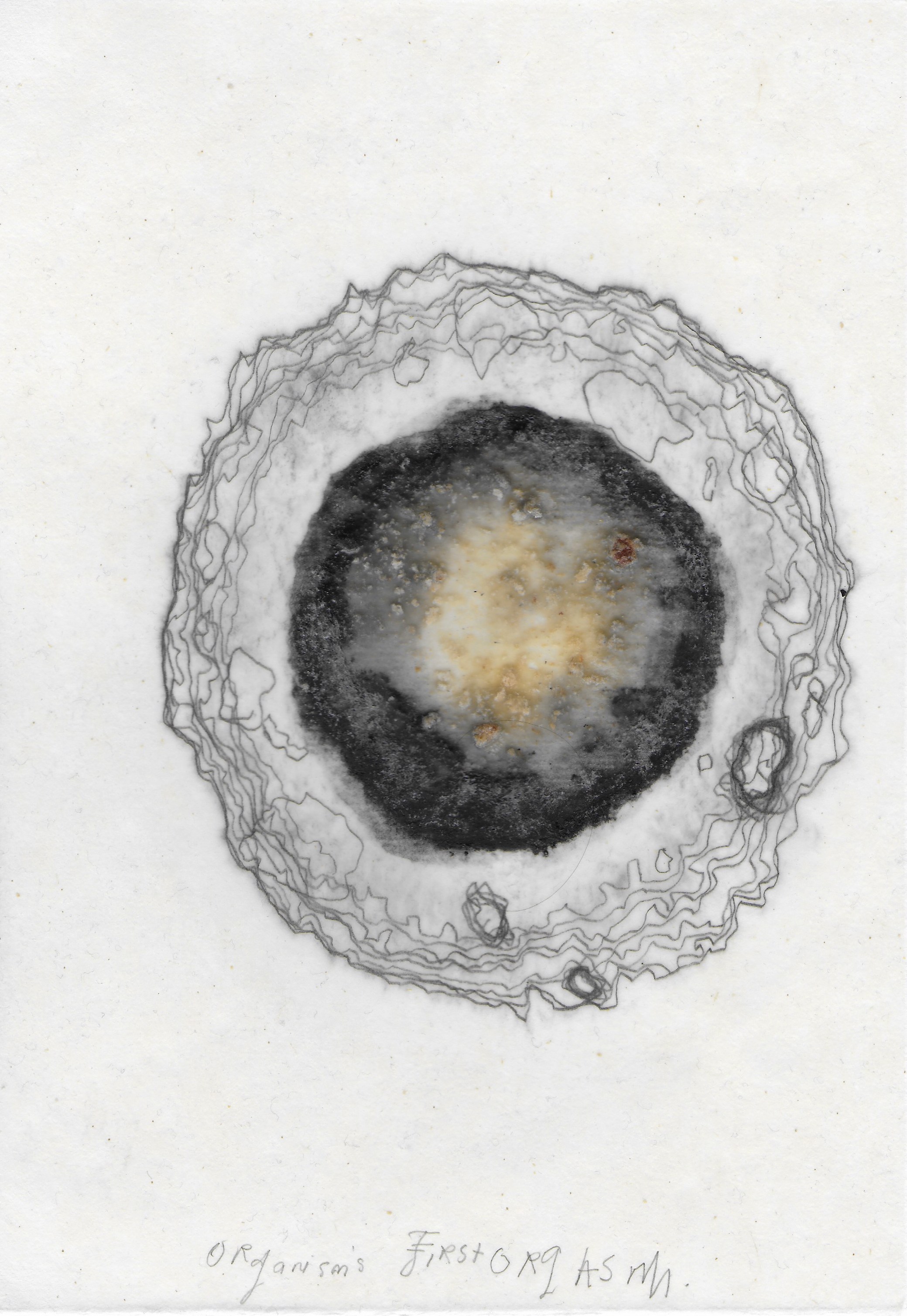 fat-works: #10, nov - dec 2017
mixed media on paper (edition of 10 unique prints using french Butter, sennelier oil paint stick and mechanical pencil on handmade japanese paper)
8.27'/11.69" (21 cm x 29.7 cm)
singapore
sqirrl, aug 8, 2015
crisco & luBe on recto
Berlin, germany
suBconscious fat (self-portrait): #1, octoBer, 2017
photomedia paper print, developed with urine
8.27"/11.7" (21 cm x 27 cm)
singapore
un-titled,(pompous) may 19, 2018
charcoal and mixed media (nBq pro spray paint, 13 redhead match sticks, lefranc & Bourgeois - rectified turpentine, general's extra smooth handcrafted compressed charcoal white & Black, water colour sponge and pumice stone from cronulla)
image: 25.98"x40.15" (66 x 102cm)
redfern, australia
welcome, jun 3, 2016
handcrafted copperplate photogravures of flowering plant amorphophallus titanum (corpse flower), etched at goldstreet studios and archival printed at tyler print institute using izote Bone Black & transparent Base etching inks on handmade japanese washi paper.
5.9"/7.7" (15 x 19.5 cm)
paper: varied
royal melBourne Botanical garden, australia
1/1 + 3 AP
Brainmuse(um): #1, june 2016
4x5 negative contact sheet (Brain of lamB, metal needles & moxa)
9.4" /12" (24 cm x 30.4 cm)
south melBourne, australia
untitled, (cockroach kinematics #1), feB 2018
mixed media on paper (unique staBilo point 88 fine.04 red marker and kumkuma on gampi sukiawase pure white 100 gsm paper)
11.4"/21.5" (29 cm x 54.5 cm)
singapore
forest-of-forests: #1, jan 15, 2018
polaroid colour photograph
4"/5.8" (10.1 cm x 14.7 cm)
piedra herrada sanctuary (monarch Butterfly sanctuary),
méxico
looking at sensations: untitled, (green leaf) , may 29 -jun 01 2018
handmade four colour carBo on stainless steel with traces of copper
7.2" x 11" (18.5 cm x 28 cm)
macritchie reservoir, singapore